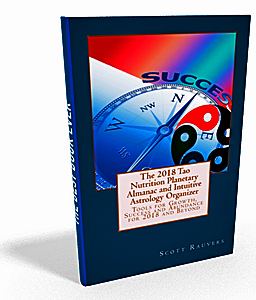 View a Sample of the Tao charts shown in the 2018 Almanac
Purchase Hardcover Paperback from CreateSpace





Total Number of Pages: 358
The FREE Online 2018 Moon Void of Course Calendar

This easy to use almanac has purposely been written for people of all age brackets, sexes, professionals and nonprofessional alike, and for people from all walks of life seeking a simple easy to use a planetary organizer. Compiled by Scott Rauvers, the Founder of the Solar Institute and author of 3 personal success achievement books covering Remote Viewing, QI Gong and the path to Intuitive Wealth, this simple and unique almanac gives you the 21st century tools necessary for achieving personal and business success in the new millennium.

This edition includes daylight savings hours, the major U.S. public holidays and the date each season begins. The included day planner gives you enough space to write in information for meetings, activities and other vital information. Included is a complete Moon Void of Course Calendar with the dates the constellation is in each house, Planetary transits for 2018 and a 2018 Moon and Planetary Ephemeris Calendar showing the aspects for each day of the year.

The section on electional astrology helps you put important events into motion using the aspects of the moon using the aspectarian. Also included are the dates of new and full moons and the dates of super moons. No longer does the reader need to go on frustrating searches for this important information.

It also shows which foods create maximum health according to season and as each new season begins, a series of recommended exercises based on the Tao can be performed that enhance the immune system, restore energy and detox the body to maintain excellent physical health.

The information in the included ephemeris sets higher standards for simplicity and accuracy for contemporary Taoist and Chinese 12 earthly branches astrology. Updated with the very latest data, it includes the longitude dates of the Sun aligned with the major asteroids of Juno, Ceres, Europa, Pallas, Eros and Vesta. For remote viewers the time of 13:30 LST is included at the start of every month for convenient planning of your remote viewing sessions. As an added feature for our readers, are the more than 21 original articles showcasing the latest creative ideas and rare information that will super-charge your goal setting and objectives all through 2018.

Included is a section on how to find your element and animal sign and how to use these signs to choose foods that will enhance health and vitality according to the season. It also shows you how to match your element to each season and the recommended anti-aging foods and herbs for those seeking a lifestyle of longevity.

Avoid frustrating failures and delays by knowing the very best time to undertake or fulfill your vital venture. To benefit fully from this information, you do not need to know your horoscope, simply plan your activity based on the favorable dates listed to take action on any day of the year. Seeking to find the date the Moon is in Taurus? our Moon Houses section, gives the exact time and date the moon will be in that house.

Know the best time to plan travel and perform self-healing based on the included Tao charts and know your peak cycles of 'CHI' to supercharge your QI Gong practice and maximize feelings of revitalization.

Years of computerized astrological data and ancient Taoist wisdom have all conveniently been capsulized into this rare one-of-a-kind almanac which is now available in nook, kindle and hardcover editions.

Once again we welcome our loyal readers to the 2018 edition and all of us here at EZ3DBIZ publications wish you a happy and prosperous 2018!

Search keywords Astrological Pocket Planner and Daily Ephemeris with Aspectarian and Almanac including Astrology Feng Shi.

ALMANAC TABLE OF CONTENTS

Welcome

An Introduction to the Elements

How do I Find My Element?

Element & Season

The 2018 Tao Nutrition Planetary Almanac and Intuitive Astrology Organizer

JANUARY 2018

FEBRUARY 2018

MARCH 2018

APRIL 2018

MAY 2018

JUNE 2018

JULY 2018

AUGUST 2018

SEPTEMBER 2018

The 2018 Tao Nutrition Planetary Almanac and Intuitive Astrology Organizer

Organizer

OCTOBER 2018

NOVEMBER 2018

DECEMBER 2018

Attributes characterized by Aquarius

2018 Moon Void of Course Calendar

Moon in House Meanings

Moon Void of Course Times and Dates

Constellations the Sun shines in each month

The Harvest Moons

Time Zone Chart

Supermoons until 2021

Apogee/Perigee Moon Dates

First, Last, New and Full Moons

Position of the Moon at Sunrise and Sunset according to Phase

Moon Rise/Set Times according to Phase

Moon Phases and Timing

The 2018 Tao Nutrition Planetary Almanac and Intuitive Astrology Organizer Organizer

2018 Planetary Ephemeris

January Planetary Ephemeris

February Planetary Ephemeris

March Planetary Ephemeris

April Planetary Ephemeris

May Planetary Ephemeris

June Planetary Ephemeris

July Planetary Ephemeris

August Planetary Ephemeris

September Planetary Ephemeris

October Planetary Ephemeris

November Planetary Ephemeris

December Planetary Ephemeris

The 2018 Tao Nutrition Planetary Almanac and Intuitive Astrology Organizer Organizer

2018 Articles

Is Solar Activity Affecting Human DNA?

The Body's Immune System is Weakened by Excessive Solar Activity

Stock Markets Decline at Sunspot Minimum

The Ancient Taoist Practice of the Inner Smile & The Science of Heartmath

The Inner Smile

Benefits of the Inner Smile

How to Practice the Inner Smile

Emotional Balance is the Key to Evolving Health

Scientific Studies on Emotions and Health

The Amygdala

Published Scientific Research Studies Documenting the Effects of Meditation and Emotions

How to Motivate a Person by finding what's Relevant to them

A Scientifically Verified Simple Non-Prescription Formula that Kills Antibiotic Resistant Bacteria

The 2018 Tao Nutrition Planetary Almanac and Intuitive Astrology Organizer Organizer

A Simple Formula for Reducing Cancer Risk, Increasing Energy and Generating Strong and Healthy Eyes

Nutrients in Egg Yolks

Astragalus boosts energy

Astragalus is Anti-Cancer

Sunflower Seeds reduce Breast Cancer

Olive Oil Increases the Absorption of Carotenoids

Olive Oil contains healthy levels of Lutein and Beta-Carotene

Frying Tomatoes in Olive Oil increases the absorption of lycopene

Breakfast Cereals and Carbohydrates

What are Refined Carbohydrates?

The Wonderful Healing Effects of Banisteriopsis

What is Ayahuasca?

Can I use Banisteriopsis as a Depression Relief drink?

Character Traits that Build Success

LST Seasonal Calendar

The 2018 Tao Nutrition Planetary Almanac and Intuitive Astrology Organizer Organizer

How to Use the Calendar

Peak Seasonal Remote Viewing Seasonal LST Accuracy Time Slots

Why there was above average hurricane activity in the U.S. during late 2017?

How Higher Barometric Air Pressure Leads to Genius. A short summary of the Genius of Dr. NakaMats. Pressure and Creativity

Increased Solar Activity Enhances Creativity

Solar Eclipses and the Stock Market

Gravity Waves during Solar Eclipses

Bismuth Oxychloride and Solar Activity

Polarized Light During a Solar Eclipse

Using the Power of Asteroids to Enhance Creativity, Healing and Success

The Properties of Each Asteroid

2018 Sun / Asteroid Alignments

Moon Electional Astrology Aspects

Calendar of Moon Electional Aspects

The 2018 Tao Nutrition Planetary Almanac and Intuitive Astrology Organizer Organizer

2018 Planetary Retrogrades

Tao Foods Section

Food Type, Taste and Activity

GRAINS & ELEMENT

2018 Solar Eclipses

Seasonal Foods and their Effect on Health

Seasons and the 5 Elements

Healing by Taste

Element and Food Type

Two Simple Eye Exercises That Relieve Eyestrain and Strengthen Vision

Tao Reference Charts