Welcome New Visitors!
View Articles Written by Mightyz
New Book Published June: A Marketing Guide to Getting Your Idea Published using Amazon &Create Space POD Read 7 Selected Chapters Free
Using Essential Oils to Relieve Work Stress

Perhaps stress from the corporate environment leaves you feeling unable to effectively respond to dysfunctions in the workplace. What if there was a cure in a concentrated 2oz or 8oz. easy to carry spray? The Antidote aromatherapy anti-bad mood sprays are about making the best of it. Essential oils can help re-center and re balance your moods, allowing you greater control over situations and giving you the ability to handle them better. The reality is that the only power you have in these situations is to find another job (that hopefully has a set of dysfunctions more amenable to your own), or make the best of the situation
you're in.

Essential oils make a good antidote for a Restless Ego. Because many of them are non-toxic, they
are perfect for using in small confined spaces such as in the office, home, or car.

The aromatherapy oils used in Scott's 4 in 1 have been carefully custom blended to produce a
positive emotional response. It won't solve all your problems, but it will make you feel better
about them in the moment. But Scott's 4 in 1 multipurpose spray isn't just for work. I can imagine
plenty of in-law situations where they might be pretty helpful.

Be kind, when using Scott's 4 in 1 and don't spray them around folks who have chemical sensitivities.

Scott supplies 4 in 1 to aroma therapists, massage therapists and alternative health
practitioners for clinical application on the western coast of the United States.
Scott's 4 in 1 is also available in 8oz and 1 gallon sizes.



A bit about Scott

Scott is the author of How to Make and Sell Your Own Aromatherapy and Herbal Products and How to Sell Your Homemade Products Online.



Scott's 4 in 1 Multipurpose Home and Business Spray.
Made with 100% Essential Oils. 100% Natural / Non-Toxic.
Over 7,000 Sold and counting!
Click on Picture to Zoom in Label Instructions.



Visit the Story of how Scott's 4 in 1 was developed.


Ordering Instructions



To Place Your Order for one eight ounce bottle. Send Check or Money order of $35.00 to:
Scott Rauvers
111 W. Burnside Street,
Portland, OR 97209
The many uses and Advantages of Scott's 4 in 1 include:
Made with Organic Lemongrass

Stays good as an itch reliever for up to 2 years

Contains Aloe Vera, making it a great skin and hand moisturizer.

100% Natural and Non-Toxic.

Dog Odor Neutralizer.

Instant Itch and Rash Relief.

Laundry Odor Remover. Use 2 Tablespoons in the laundry rinse cycle to eliminate hard to
remove odors and leave a fabric softener scent afterwards.

Lubricates Fabric Zippers, Because essential oils contain plant oils, they make an excellent
natural lubricant for sensitive surfaces such as clothing, skin or plastics.

Natural pet chewing deterrent. Stops pets such as dogs from chewing furniture.

Removes fresh ink stains from wood and skin.

Makes an excellent short term fly, ant and mosquito repellent.

Removes gasoline, tobacco and stubborn seasoned dog odors.
But best of all is the unique aroma. Scott's 4 in 1 has a deep Sensuous mystifying aroma which
immediately transports you to that special place of Zen, anytime...anyplace.

NO OTHER UNIQUELY CRAFTED ITEM HAS SO MANY MULTIPURPOSE PROPERTIES, YET SMELLS DELICIOUS AND IS 100% NON-TOXIC.

Unlike a chemically manufactured deodorizer, Scott's 4 in 1 does not cover up odors for a short
period of time. Instead the essential oil of Tea Tree contain tiny microscopic enzymes which begin
a process that organically dissolves the true source of the odor at the molecular level, therefore
eliminating the true source of the odor altogether, not allowing it to breed any longer, as most
long term hard to remove odors are dorm of fungus, which Tea Tree has been shown to be able to
completely destroy altogether.

If you practice yoga or meditation use the power of essential oils in Scott's 4 in 1 to immediately reach
a Balanced and relaxing state of being and enhance mental clarity and deepen your connection to your
spiritual practice. Spray Scott's 4 in 1 around your meditation space to maintain a sacred presence
and evoke images of a Green Lotus, helping you to meditate deeply and peacefully.

How to use Scott's 4 in 1

Over 7,000 sold bottles of Scott's 4 in 1 have been sold.

For Pets: Spray directly onto pet before taking your pet for a walk to help keep flies and insects from gathering around your dog before taking it for a walk.

After washing your dog, add 2 teaspoons to the rinse water to leave a soft residue behind that not
only leaves your dog smelling fresh, but also will help repel fleas and ticks.

For Ironing: Before you iron clothing, spray fabric, than iron. The deep penetrating power of Scott's
4 in 1 takes the water particles deep into the fabric, combined with a hot iron, eliminates wrinkles
and as a bonus leaves behind a wonderful smelling fabric softener scent.

For sleeping areas. Apply 3 nightly applications of Scott's 4 in 1 to areas where bed bugs or fleas are present. For extra heavy infestation, wash fabrics adding 4 tablespoons of Scott's 4 in 1 to the rinse
cycle and thoroughly spray sleeping areas to totally eliminate bed bugs or fleas.

Scott's 4 in 1 is stain free. It can safely be used on fabric, plastic, vinyl or leather.

What are Essential Oils Used For?

Here are just a few of the uses essential oils are being used for:


Aches & Pains

Anxiety & Depression

Calming Massage

Cellulite Prevention

Energy Boost

Exercise Workout

Harmony

Headache Relief

Memory Retention

Mood Lifter

Sleep Remedy

Varicose Vein Relief
Scott's 4 in 1 Multipurpose Aromatherapy mist makes an excellent addition to your essential oil
collection. Even if you don't use Scott's 4 in 1 for its many therapeutic benefits, the
unique blend of essential oils will assist you with:


Abundant Prosperity

Attracting a Partner

Comfort and Joy

Doing new things with Confidence

Focused Attention

Inner Strength and Protection

Manifesting Life Purpose

Open-Hearted Loving

Releasing Worry and Fear

Renewed Faith and Optimism

Restful Sleep

Troubled Times

Trusting Inner Guidance
What are Essential Oils and are they safe?
Essential oils carry the physical properties of flowers and plants in a highly concentrated form. They
are, in short, the core essence of the plant and can provide therapeutic benefits in very small amounts.
Think of walking into a forest or wilderness area, with the natural scents and aroma filling your senses.
Essential oils contain these same fresh natural wild aromas, only they are in a highly concentrated
bottled form. So you can have the same scent experience as going to a pine forest by taking a few
whiffs of Pine essential oil.

The particles in essential oils, which come from various parts of the plant such as the flowers, twigs,
leaves or bark.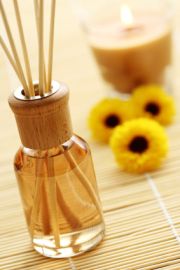 Essential oils can be inhaled, absorbed through the skin or used with
reed sticks.

Essential oils can be traced back for thousands of years. They were
used in ancient Egyptian times, and were made by soaking plants in
oil and then filtering the oil through a linen bag.

Most essential oils have antibacterial qualities and have varying physical
and emotional effects depending on the oil, such as stimulation,
relaxation, pain relief and healing.

I'd also like to point out that essential oils are not the same thing
as fragrance oils. Essential oils come from plants while fragrance oils
are artificially created and often contain harsh synthetic chemicals
that give some users severe allergies.

While a fragrance oil may smell good and are typically less expensive,they will not give you the natural
therapeutic benefits of organic essential oils. Many essential oils are also non-toxic, making
them safe to use around let's and children. If you or your family are health conscious and want
to avoid allergies, than you don't want to be inhaling any synthetic chemicals!



Unlike some people under a doctor's supervision who are prescribed pills to combat Apathy,
Passive and Aggressive behaviors, certain essential oils can have the same mood elevating effects
as medication. To get the best effects it is recommended to use an assortment or blend of essential
oils that will elevate your mood naturally, and rotating them every 3 to 4 days. For example,
you could use Citronella for 3 days than Pine for 4 days, than a combination of the 2 for 4 more days
than Jasmine for 3 days. By doing this it stimulates healing of your depression without the need for
dangerous medication. Did you know doctors over prescribing medication are now one of the number 1 killers



__________________________________________________________________________

How Much is Shipping?

Shipping is a flat rate of $5.00 to anywhere in the U.S.A. and $5.00 additional to other countries.

_____________________________________________________________________________

What about International Shipping?

As stated, a flat fee of $5.00 is automatically included upon checkout with your order, no matter which country you live in.

_____________________________________________________________________________

Mightyz Return and Exchange Policy

You may return new or opened items sold and fulfilled by Mightyz or its distributors within 60 days of delivery for a full refund. Mightyz will also pay the return shipping costs if you're returning the item due to a defect or the product had been tampered with upon delivery to your address. Furthermore, Mightyz will pay the return shipping costs if the return is a result of our error. Items should be returned in their original product packaging.



Receiving a Refund



Refunds are processed by the debit/credit or Bitcoin payment system used. If you paid via check or money order, your refund will be sent to your address via money order.

The time period to process your refund is calculated as:

5 to 10 business days for us to receive your return from the shipper
3 to 5 business days for us to process your return
The time it takes your bank to process our refund request
We'll notify you via e-mail of your refund once we've received and processed the returned item.
Credit card Credit card 3-5 business days
Bank account Bank account Up to 10 business days


Exchanges

If you received the wrong item by mistake, and need to exchange it for the same item, e-mail us to request a replacement. If you would like to exchange an item for a different one, please return the original item and place another order for the item you wish to purchase. Please note that it takes us 3 to 5 business days to process returns.



::::Our Mantra::::

Every day is a gift...live beautifully™